Videos help you get more about sports lighting
Through the video to show the light's appearance, structure and performance characteristics, advantages and
application environment, you can certainly find your ideal stadium light products below.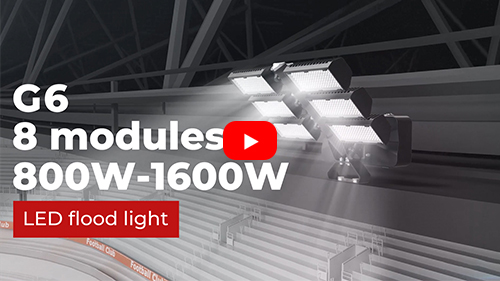 G6 up to eight modules 800W-1600W LED flood light
G6 LED flood light adopts professional chrome-plated anti-glare lampshade and optical design, better heat dissipation with external driver box. Low EPA, convenient module rotation and easy replacement, capable for HDTV broadcasting,CRI>90 & TLCI>90, can be smart controlled by DALI and DMX512 Up to eight modules 224,000lm, ultra high brightness can lighten the whole sports fileds easily.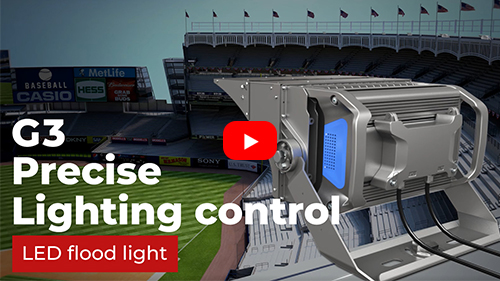 Huadian black hood design led flood light G3, precise lighting area control.
G3 LED flood light has many ingenious designs, non-slip back handle for easy installation, built-in/external power supply two options, adopt photocontroller to control the lighting automatically with the ambient natural lighting, laser aiming device help to precision control in angling and aiming each sport light, it's the perfect choice for outdoor large venues such as stadiums, docks and airports.
FLASH Power & CCT tunable LED high bay light
FLASH, the LED high bay light which is designed to illuminate large areas with high ceilings, these high bay lights create powerful illumination at a long-range to enhance the visibility and focus light more directly than traditional incandescent fixtures. This makes high bay LED lighting perfect for commercial and industrial applications, such as factory, warehouse, work shop, supermarket and stadium with larger areas and taller ceilings.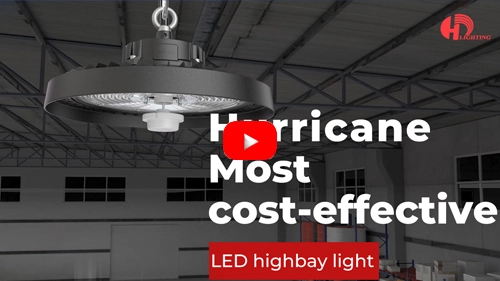 Hurricane most cost-effective high bay light
Most cost-effective and versatile lighting solution, now, here it comes, Huadian lighting "Hurricane" led highbay light, power range from 60W to 240W adjustable, can be customized to fit different settings, 0-10V dimming, up to 190LM/W light efficiency (standard: 150LM/W), the high bay lights create powerful illumination at a long-range to enhance the visibility and focus light more directly than traditional incandescent fixtures.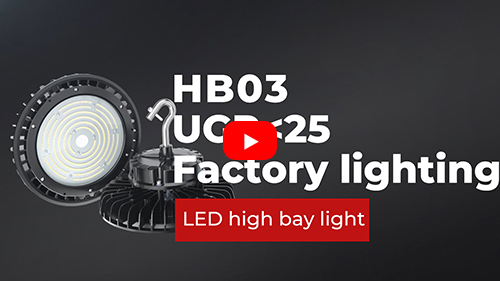 HB03 patent design UGR<25 factory lighting LED high bay light
HB03 full range wattage LED high bay from 100w-500w is an ideal luminaire for aircraft manufacturing plant, warehouses, supermarkets, logistic centers and so on. HB03 equiped with whole series of different beam angles lens, and use different materialto keep good heat dispation,  for example, the 300W heat sink is made of die-cast aluminum with powder coating, and the 500W heat sink is made of cold forging pure aluminum with electrophoresis treatment.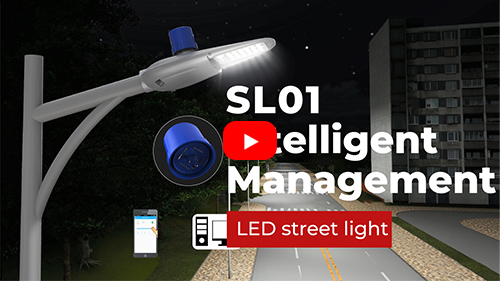 SL01 intelligent management LED street light
SL01 LED street light adopts master control to manage single light on zigbee, turn on/off the lights automatically, wireless automatic dimming, luminous intensity changed depend on the ambiend light. Users also can set the dimming value through the web interface, and easy to replace or maintain the driver, aluminum housing integrated design, IP66 waterproof for outdoor use, keep the longer lifespan.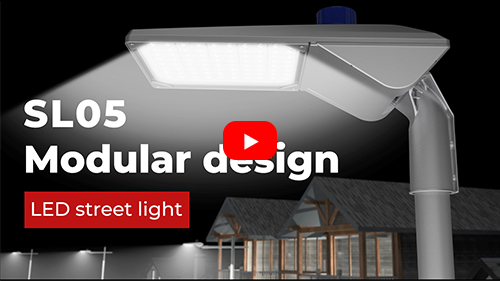 SL05 modular design & high strength structure LED street light
Correct LED street lighting must guarantee maximum visual quality, safety and energy efficiency. The goal of street lighting is therefore to allow citizens to move in total safety with excellent visibility conditions, at the same time, save on energy costs. SL05 adopt spray paint polishing technology, PC lens + glass, silicone seal and flip cover design, more safety and easy maintain. Widely used in stadium, sports field, high mast lighting, light tower, ports lighting and so on.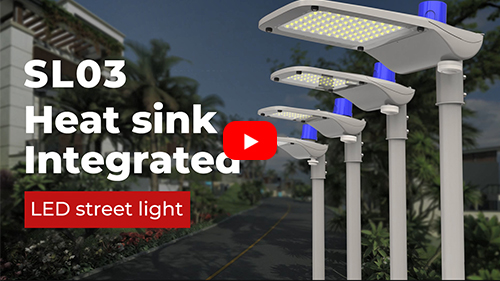 SL03 heat sink integrated LED street light
SL03 LED street light adopts high-power LED (Lumileds/Osram) light source, power supply can match any brand. The heat sink is integrated with the lamp housing for faster heat dissipation, lamp housing is made of aluminum die-casting, which is designed to effectively dissipate heat, waterproof and dustproof. The surface is UV-resistant and anti-corrosive, and overall luminaire meets the IP66 protection, perfect for outdoor application.
Interested in any products?
Need more information?