Storm 30W-500W Led Street Light Series
Storm is a street light series with a lens modular design. It includes four different sizes and models, with a power range of 30W-400W. The modular lens design allows for flexible combinations with 3030 and 5050 LEDs, providing versatile lighting options. Storm street lights are suitable for a wide range of applications, including country roads, urban roads, highways, parks, industrial parks, plazas, docks, and outdoor parking lots. The 30W-240W models of Storm streetlights feature a smooth surface and corrosion-resistant coating on the heat sink, making them suitable for environments with sand, rain, snow, and even coastal areas with high air corrosion. The light fixture has ±20° adjustability, allowing it to match different pole angles. Different light angles, such as Type II and Type III, are available for two-lane or three-lane roads. Storm street lights come with a one-piece waterproof silicon rubber ring with an IP66 waterproof rating, ensuring reliable performance in various weather conditions. Storm also has a built-in breath valve to maintain balanced air pressure inside and outside the light. The driver cavity is designed with a power-off switch, which automatically cuts off power when the lamp body is opened during high-altitude maintenance, minimizing the risk of electric shock. Additionally, the electronic compartment can be accessed without the need for tools, thanks to the snap fastener design.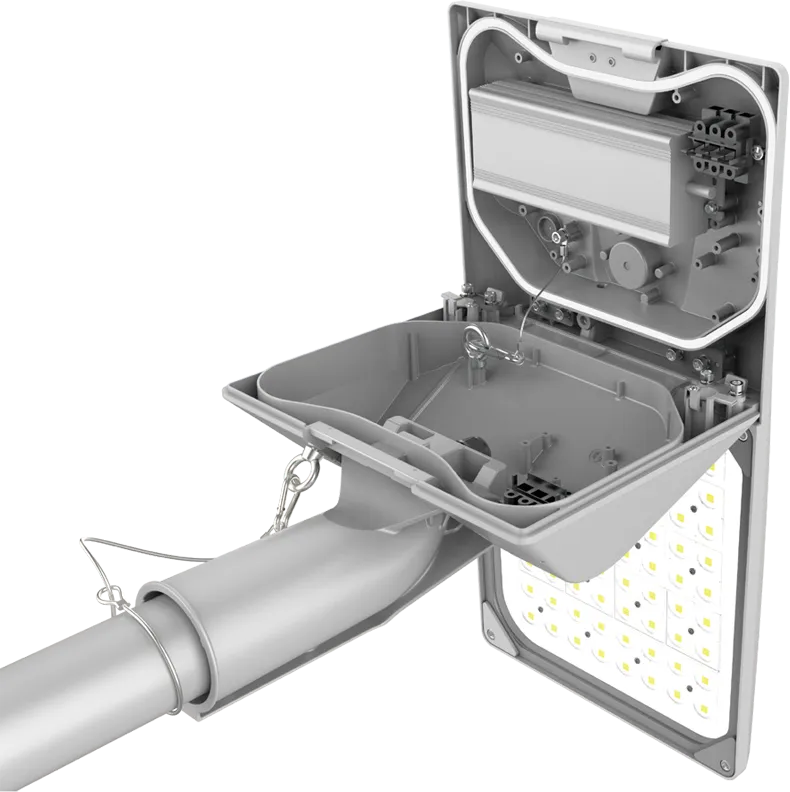 Tool-free Access To Electronic Compartment With A Snap Fastener
Storm street lights can be accessed without the need for any tools. It utilizes a convenient snap fastener, providing easy and tool-free access for maintenance or replacement of electronic components.
Power-off Switch Design, Human And Safer
The power-off switch design of Storm street lights prioritizes the safety and convenience of electricians during high-altitude maintenance. It automatically cuts off power when the lamp body is opened, minimizing the risk of electric shock and ensuring a safer working environment.
Safety rope is designed to securely fasten the street light to the installation pole, prevent the risk of accidental falls, provide an additional layer of protection, and ensure the reliability of the fixture.
Lens Modular Design Offers Easy Maintenance
Lens Modular design offers easy maintenance, disassembly, and assembly. This makes it easier to replace or upgrade specific components without the need for extensive disassembly of the entire fixture. This not only reduces mold costs but also streamlines the manufacturing process and optimizes production costs.
The combination of a lens and glass in Strom Street lights effectively mitigates the impact of sunlight on the PC lens material. This helps to prevent yellowing and brittleness, leading to reduced light attenuation and improved overall lamp performance stability.
Optional lighting for Type II, Type III, and Type IV, for two-lane or three-lane roads.