SP01 Led Sports Stadium Lighting
SP01 integrated high-power sports light is specifically designed for sports and outdoor activities. With the Lumileds3030, Osram3737, and Samsung351C Beads, light efficiency is 150 Lm/W and 130 Lm/W optional, which makes the SP01 can cater to different lighting projects and provide customers the ability to choose the most appropriate light efficiency based on their specific needs and priorities. The seamless link of aero metal materials and numerous vents on the heat sink improved heat management and kept away the effects on performance from all field heat. A U-bracket can greatly simplify installation and maintenance processes, making the technicians easier and safer to work with. It provides stability and support and holds the lights at an angle during operation, withstands external forces such as wind or vibrations. To ensure SP01's durability and reliability in outdoor environments, adequate testing and quality control are 100% necessary to ensure waterproofing capability. Involves tests such as water spray testing or submersion tests. Meanwhile, our Engineers design a state-of-the-art circuit system that works harmoniously with other systems while generating ultra-low EMI noise and minimizing electrical interference.
Professionally led sports stadium lights for stadiums, arenas, or other sports facilities to ensure proper visibility and comfort for players and audience members. Aris F.C. in Greece-FIFA project is one of our successful and classic projects, with the SP01 1000W lights and 3 different lenses(15degree, 20degree, and 25degree small angles of light distribution), to create a good lighting environment.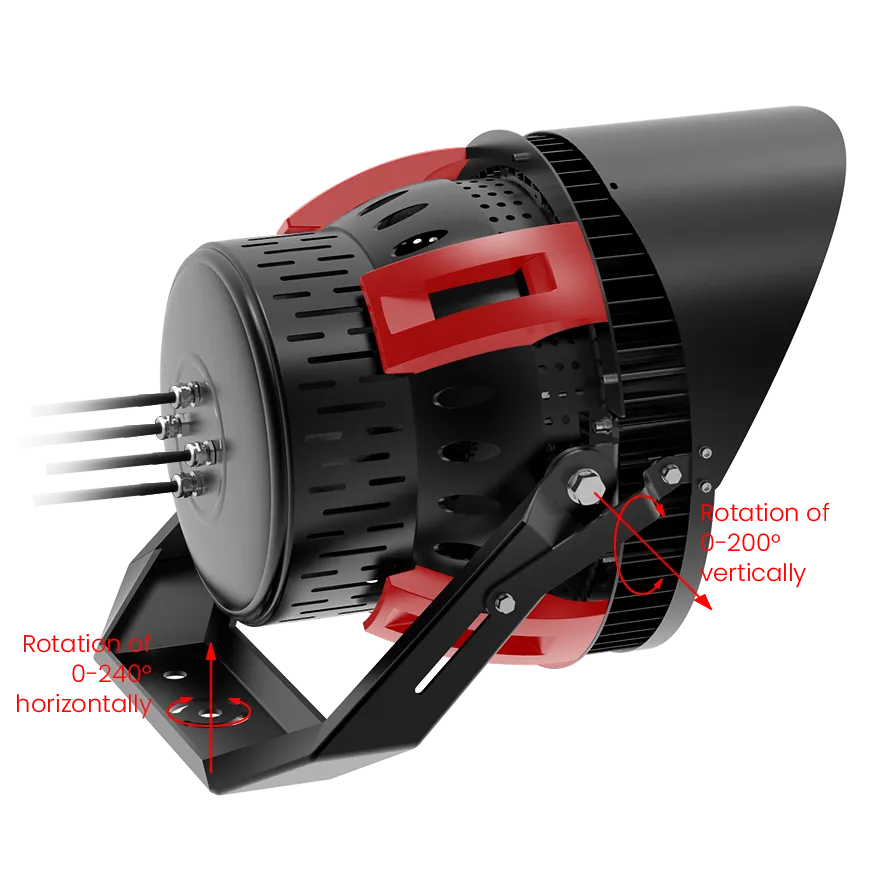 Friendly Structural Design
A wide range of rotation of 0-240° horizontally and 0-200° vertically provides excellent coverage, ensuring that the lights can illuminate every corner of the playing area effectively. The bracket can provide stability and support, ensuring that the lights remain in place during operation and can withstand external forces such as wind or vibrations.
Solid State Design" (SSD) for LED chips is simple, durable, and reliable. It makes easier manufacturing processes, lower manufacturing costs, and increased efficiency. The absence of non-removable components in a solid-state LED design reduces the likelihood of failure due to component degradation or damage. Without external connectors or wires that could fail, the LED chip becomes more reliable, minimizing the need for replacements or repairs.
Optional Real-time Monitoring Function
Optimized for the live broadcast system by wireless data transmission makes easily on color tuning and dim options, Real time monitoring is available on the working status and performance of every fixture, recognizing potential problems.